Start your domain name search


is a bold, fresh, and memorable choice for your users.


Is the preferred option for India businesses.


For an individual or organization based in India..


Get INFO for INFORMATION.


Get your own space online.


Get online with perfect domain.



Get your perfect .TECH domain.



Build your retail or eCommerce store.

What's in a Domain Name?
Your domain name is where it all starts – it's the web address that's the key to everything you offer online.
We're thrilled to be part of your new idea for a website.
A domain is made up from top-level domain (TLD) like .com, and second and third level domains, which can be chosen by the person who registers it.
Your web address can contain a combination of numbers, letters and hyphens, but not any other punctuation marks or special characters. They ignore upper and lower case (so you can capitalise the first letter of words in publicity material for easy reading).
Once you've provided your details and paid, we'll register it with the operators (registrars) of that domain and you'll be able to start using it immediately.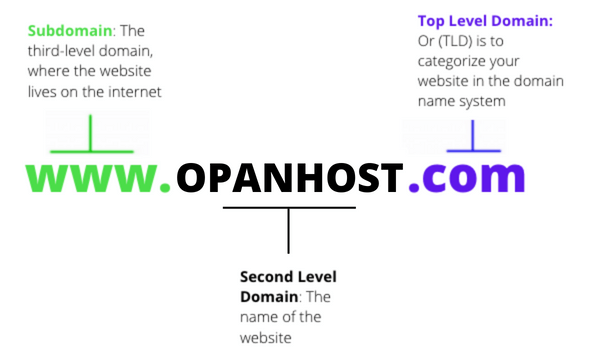 Advice & guidance
How to Buy a Domain Name
Registering a domain name shouldn't be done in haste. It may only take seconds to purchase a domain from us today,
but here are some things to consider:

Is it memorable?
The best way to make a website address memorable is to keep it short and unique. Of course, that is easier said than done!
Can you say it easily?
Word of mouth is still one of the best ways to get leads. So make sure that it can be said easily, or if it does need to be spelled-out, keep it short.
Will you use hyphens?
Opinions differ on hyphens - some may find that they make your internet address more readable, whereas others avoid them.
Does it cover what you do?
Consider having your product or service in your domain, but exact matches can be seen by some – including search engines – as potentially 'shady'.
Has someone else got a similar domain?
You don't want your users getting confused, or to be a target of legal action. So we recommend checking this using a search engine.
Will you need to buy variants?
People may try to copy your domain name, but with a different TLD. So consider whether it's worth buying popular alternative TLDs for your chosen second-level domain.
Ideas for your Website's Address
You're not limited to .com or .net any more.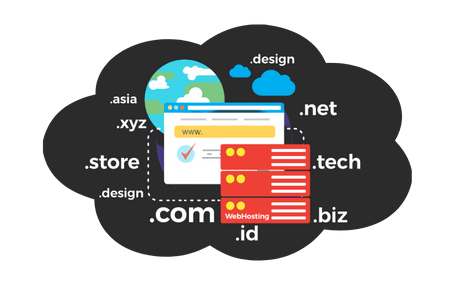 If you're looking for a website address for a business, you might like to go for a top-level domain that matches your geography – called a country-code top-level domain (ccTLD) – like .tv, .fm or .cc. Or even more local, like .in.
Or perhaps you'd prefer something more international and generic like .biz, .org, .net, or .info?If your site is going to be store, why not try something like the .store domain?
Or perhaps go for something more descriptive with one of the many new generic TLDs (gTLD) and buy a domain like .art, .online, .design or .online?
So what all do you get?
DNS
Management

Domain
Forwarding
Privacy
Protection
Registrar
Lock
Not seeing what you want? There's more.
Until recently, there were less than two dozen domain extensions to choose from – including .com, .net and .org, to name the most popular ones. Now there are literally hundreds for you to choose from.
Wish To Setup A Website?
Get our Hosting Bundle with FREE Domain Name Now! - Save Up To 56% OFF!
Keep the bad guys away.
There are people on the web who are always trying to steal your domains and personal details. These optional services can help (you, not them).
Keep your private details, uhh…private.
Your personal information is displayed in a public directory as soon as you register a domain with opanhost or any other registrar. Hackers and spammers often use this to compile email lists and steal domains. Yes, it's true.

When you add Privacy Protection to your domains:
By Proxy. No one ever sees your name, address, email or phone number but us. That is because we replace your name and contact details with the Domain Privacy Protection Service's contact information instead in order to provide you with the highest level of protection against identity theft and spammers.

You may have taken your personal information out of the public WHOIS database but your domains are still 100% yours. You still control your domains and all email addresses attached to them as well as the right to sell, renew or transfer them.

Don't let spammers and telemarketers invade your privacy. With Domain Privacy Protect, the visible email address to public is constantly changing, so while it is being harvested and redistributed, it will change and the previous address will no longer work for spammers.
After all, you enjoy peace of mind knowing your personal information isn't easily accessible and displayed to the whole world.click for more
Why Choose Us?
we have solid professional experience and a reputable customer service to assist you beyond domain registrations and website hosting!
Lowest
Price
Friendly Customer
Service
Reliability
& Security

24×7
Support
Frequently asked questions